Woman writer Wednesday Martin seems a bit confused, both approving and disapproving at the same time of sex parties that exclude men.
She attended a New York party and a more casual Los Angeles party. This excerpt describes the New York party.
The key concept created by the (((intellectuals))) to justify the hedonism represented by the Skirt Club is "sexual fluidity," which I take to mean that women can change their sexual attraction on a dime, desiring sex with a male in one instant and with a woman in the next instant.
Somewhere out there are the (((destroyers of the family))) enjoying the sales job that this high-glamour psyop provides. Ironically, if you scroll down the home page by five or six posts from this one, there's Stefan Molyneaux and Dennis Prager discussing the "morality crisis" on youtube. Their position is that there can be no morality without God. I think God is nowhere to be found at the Skirt Club.
STOCK PHOTO OF JAPANESE SHIBARI.

For $180 admission, from 8 p.m. to 2 a.m, women who have been vetted drink champagne, hear from a sex positive speaker or performer and go at it. No men allowed.
—
At the New York party, held May 20 in a downtown duplex with a massive fireplace, a fabulous skyline view, and a terrace featuring a huge hot tub, the homeowner-hostess, a buff dirty blonde with butterfly temporary tattoos on her bottom, wore nothing but a harness that exposed her nipples and a G-string. A practitioner of the ancient Japanese art of bondage called shibari gave a demonstration as women who had traveled from Palm Beach, Florida, New Jersey, Brooklyn, and the Upper East and Upper West sides got their cocktail on and listened attentively. Attendees were a fit, diverse crowd of 50 women in law, finance, journalism, medicine, social work and sex therapy. There was some standard getting-to-know-you awkwardness. But as a fashion designer in leather leggings explained: "There's none of the stress about what might happen. Everyone is here because she wants to have sex." New Yorkers do love to save time. (Although I did hear later that these events can sometimes lead to more: One woman met her girlfriend here, another invited a fellow attendee to a dinner party at her house.)
SKIRT CLUB MEMBERS POSE FOR A LESBIAN LAY.

After a game of body shots (no food at these shindigs!), the crowd thinned. Research revealed that in one bedroom, eight bodies writhed in every congress imaginable. There was grinding, going-down-on, spanking, hair pulling and ecstasy, with more of the same to be found in the other bedroom. I had never seen human females go at it like this — uninhibited, unapologetic and uncensored — and it made me want to get to my husband quickly. As I gathered my things and headed to the door, a too-young-for-me blonde told me she found me captivating. It was like a prom dreamed up by Djuna Barnes and Candida Royalle, and I fled.
Our intrepid writer was ready to run home to hubby? Well, that's a good sign I guess. The problem may lie in the old adage "What has been seen cannot be unseen."
Hedonism sings a sweet siren song, luring the mind back to what the lizard brain perceives as satisfying. After all, if you recognize the Skirt Club as a psyop, the game ends not just with a lesbian lay with the breakup of a family throughout an American society made up of practicing hedonists.
SKIRT CLUB FOUNDER GENEVIEVE LEJEUNE.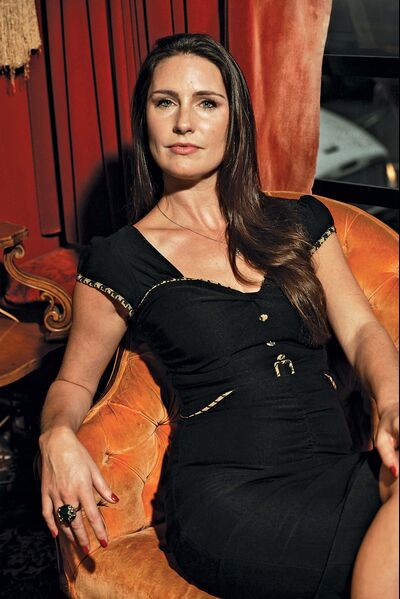 There is something askew about wanting to watch other people have sex.
In the video below the founder explains how glamorous and empowering anonymous lesbian lsex is. As P.T. Barnum noted, there's a sucker born every minute.