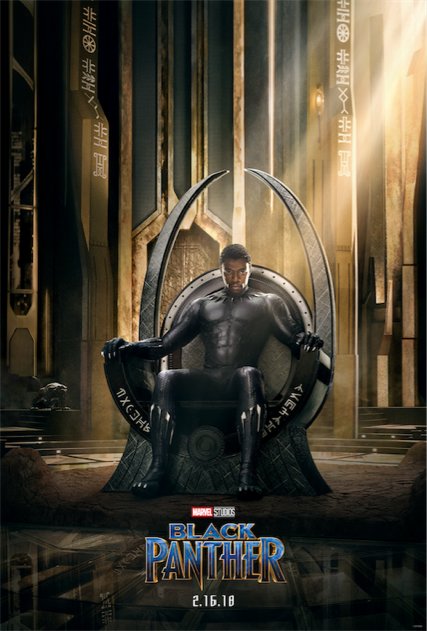 The Jewsmedia says be excited goyim.
The "Black Panther" poster features the titular hero, played by Chadwick Boseman, perched on his throne in Wakanda.

The first trailer for the film will air during Game 4 of the NBA Finals on Friday. The match between the Golden State Warriors and Cleveland Cavaliers begins at 6 p.m. PT on ABC.

Boseman, who debuted the character in "Captain America: Civil War" last year, plays T'Challa, the prince of the fictional, technologically-advanced African nation of Wakanda, who must take over the throne after his father's murder. When a powerful old foe reappears, T'Challa rallies his allies and releases the full power of Black Panther to protect his kingdom.

Michael B. Jordan (villain Killmonger), Lupita Nyong'o (Nakia), Danai Gurira (Okoye), Martin Freeman, Daniel Kaluuya, Angela Bassett, Forest Whitaker, Andy Serkis (Ulysses Klaue), and Sterling K. Brown round out the star-studded cast. The superhero tentpole is directed by "Fruitvale Station" and "Creed" filmmaker Ryan Coogler, marking a reunion between him and Jordan.

"Black Panther" pounces into theaters on Feb. 16, 2018.
February 16, 2018? Sorry, I have that day in my calendar set up to do something important: I'm clipping my toenails.