REP. MATT RINALDI. HE CALLED ICE.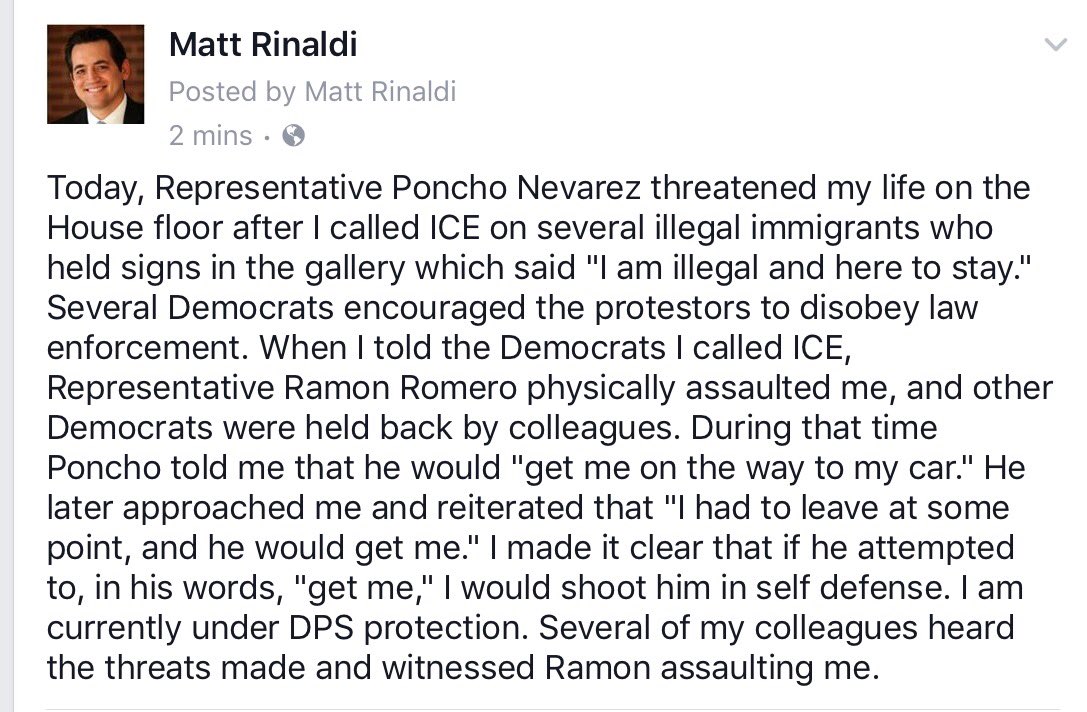 Democratic members of the Texas Legislature reportedly assaulted and threatened a Republican colleague over his call to immigration authorities, prompting the GOP lawmaker to say he'd defend himself with deadly force if the Democrats followed through on their threats.

Rep. Matt Rinaldi, Irving Republican, said the altercation began when he called Immigration and Customs Enforcement in response to repeated disruptions of the day's proceedings by illegal-immigrant demonstrators over a bill targeting sanctuary cities.

According to the account he posted on social media, when Mr. Rinaldi told a group of Democrats on the floor that he had done this, he was "physically assaulted" by Rep. Ramon Romero, Fort Worth Democrat, and other Democrats had to be held back by lawmakers.
REP. RAMON ROMERO. LA RAZA. EVERYTHING FOR MY PEEPS.

Shortly after the widely-seen altercation on the House floor, several Democratic lawmakers held a press conference where they accused Mr. Rinaldi of saying he would "put a bullet in the head" of one of their members at a second scuffle, the Associated Press reported.

Mr. Rinaldi's statement acknowledged saying words to that effect but said they were a warning after a similar threat from Rep. Poncho Nevarez, Eagle Pass Democrat.
ALFONSO "PONCHO" NEVAREZ. WE CAN MAKE OUR OWN BURRITOS, AMIGO.

"During that time, Poncho told me that he would 'get me on the way to my car.' He later approached me and reiterated that 'I had to leave at some point and he would get me," Mr. Rinaldi posted.

At that point, Mr. Rinaldi made the deadly-force threat that already had been reported by the multiple news outlets.

"I made it clear that if he attempted to, in his words, 'get me,' I would shoot him in self-defense," Mr. Rinaldi wrote, adding that he was now under the protection of the Texas state police.

"Several of my colleagues heard the threats made and witnessed Ramon assaulting me," his statement concluded.
Heh, heh. The race war is heating up. Don't you feel good about understanding that in he end it was going to come to this?
Either the nonwhite races rule over us in a despotic manner or we rule over them. There is no peaceful coexistence since multiculturalism is a liberal scam.