FROM THIS AT COLUMBIA UNIVERSITY …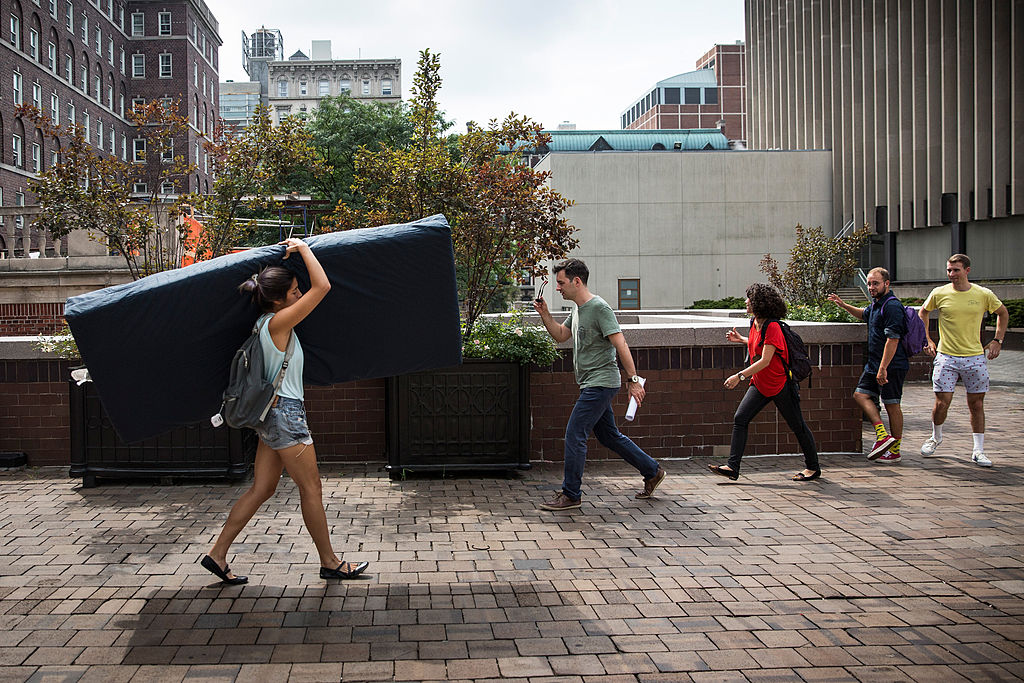 Emma Sulkowicz, a half Jew and half gook mental case, became famous a couple of years ago for her false rape accusations against a white male student. He's still branded a rapist even though there is strong evidence that all he did was have a one night stand or brief relationship with this sperm dumpster.
The filthy Jew whore should be serving jail time for making false rape accusations. Instead, the New York art scene worships her degeneracy.
Not everyone approves though. This Tweet mocks her:
You can watch a hard core porn video that the mental case describes as "art" here. Even if you like porn, you probably don't want to watch.
Here's the story on her newest project:
Two years after "Mattress Performance," Emma Sulkowicz continues to provoke. Her most recent piece, in which she was bound, berated, and hung from the ceiling, tackles the question of the value of art under the Trump administration.

Emma Sulkowicz is a performance artist living and working in New York City, though most recognize her as the Columbia University student who made headlines her senior year in 2014. Sulkowicz, then a visual arts undergraduate, focused her thesis Mattress Performance (Carry That Weight) on hauling a dorm room twin-size mattress everywhere on campus to protest the university's mishandling of her sexual assault complaint against a fellow student. Sulkowicz and Mattress Performance sparked a national debate about sexual assault on campus. As coverage increased, Sulkowicz—wielding a 50-pound mattress and wearing blue hair, a somber expression, and absolute resolve—became the center of a larger culture war tearing through America.
She talks about her "rape" here:
During Sulkowicz's senior year, the community that we now know consists of the socially conservative, the alt-right, the Trump voter, and the many trolls that fall into the aforementioned categories, made Sulkowicz the symbol of what they believed to be political correctness gone berserk on campus and society at large. For many others, Sulkowicz became a hero. Here was a woman demanding accountability and justice from a society that allows and perpetrates sexual violence.
As this video notes, she asked her so-called rapist to have anal sex with her, a request he did not want to honor.
Since her graduation in May 2015—during which Columbia University president Lee Bollinger refused to shake her hand—Sulkowicz has furiously continued her work as an artist. Soon after, she released Ceci N'est Pas Un Viol, a follow-up to Mattress Performance. Then, she had her first individual gallery show in Los Angeles. For the past year, Sulkowicz has been enrolled in the Whitney Museum's Independent Study Program (ISP) and on May 20th, graduated with a performance at the program's studio exhibition in midtown Manhattan.
TWO JEWS ACTING OUT THEIR DEGENERACY FOR THE GOYIM.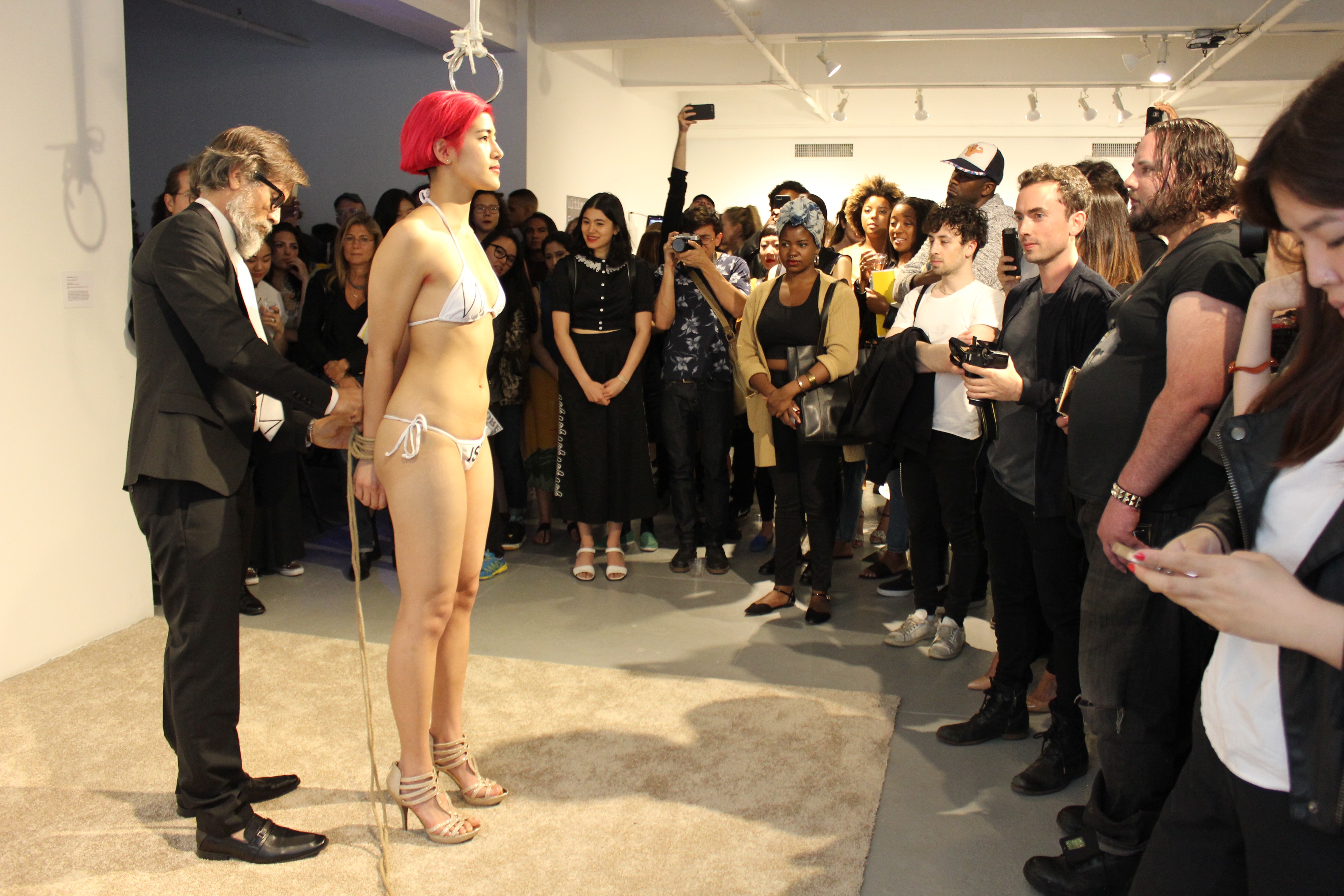 As the performance started, this man in a suit, named Master Avery, started to berate Sulkowicz. "Your boobs are too small," he spat. "You can't even stand up straight." He pulled a long, gnarled rope out of a black leather bag and started tying intricate knots around her upper thigh. Once the knots covered both of Sulkowicz's legs, Master Avery started around her waist, moving her body as he worked quickly. At one point, the rope almost hit Sulkowicz's eye. After a few shocked blinks, she looked up at the audience and laughed.

"We're acting out this sadistic-masochistic relationship between the institution with all of its financial power, and this program that wants to be political but can't be really because it's being tied up by this institution," Sulkowicz explained.

After what seemed like days—but was was really about 45 minutes—Master Avery had completely tied Sulkowicz up to a large wooden beam. Using a pulley system attached to the ceiling, he used his whole body to lift her from the ground, and after a few tries, Sulkowicz was suspended with her arms and legs wrapped around the beam, rendering her immobile. The rope visibly cut into her skin as Master Avery took off his belt and started hitting her with it.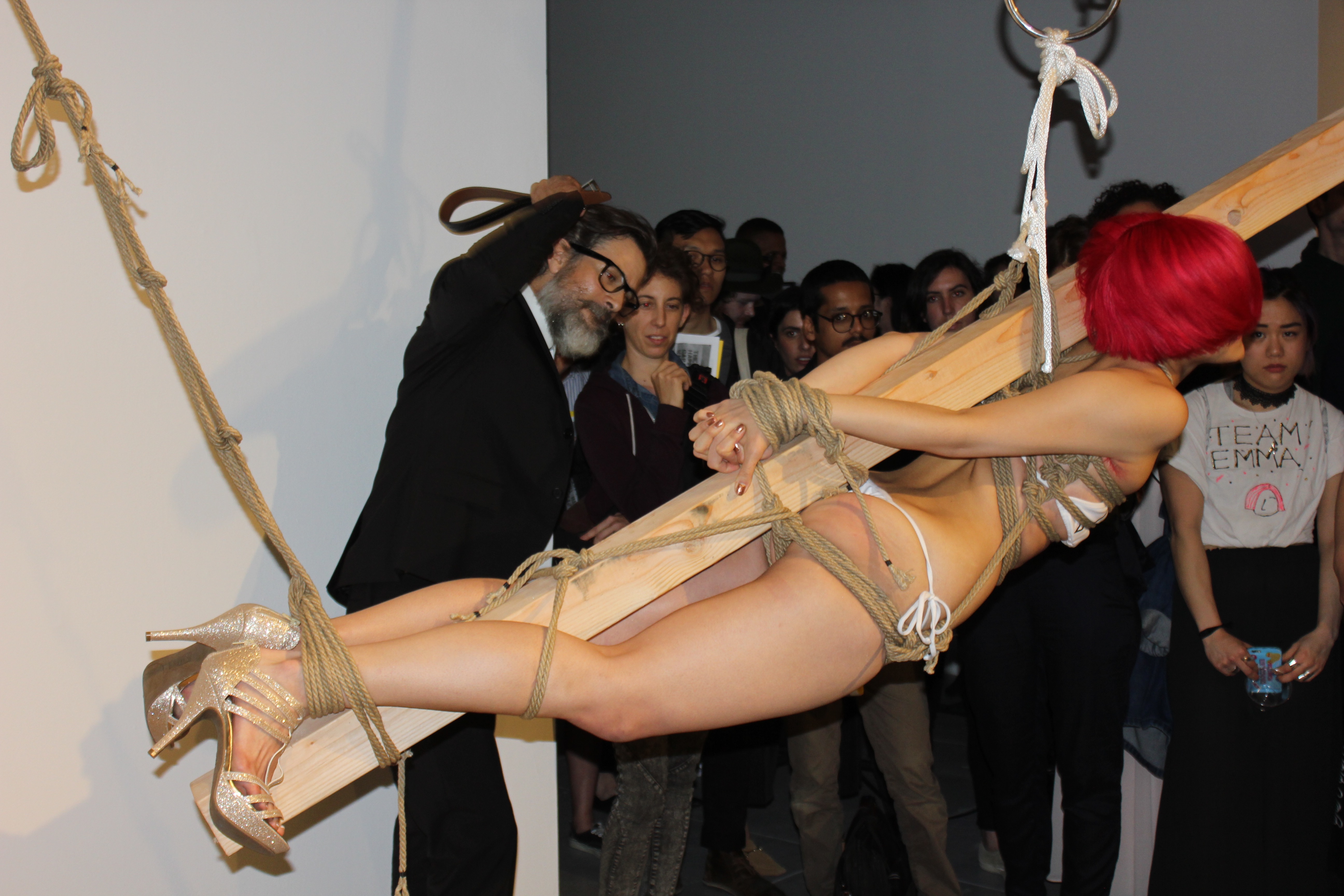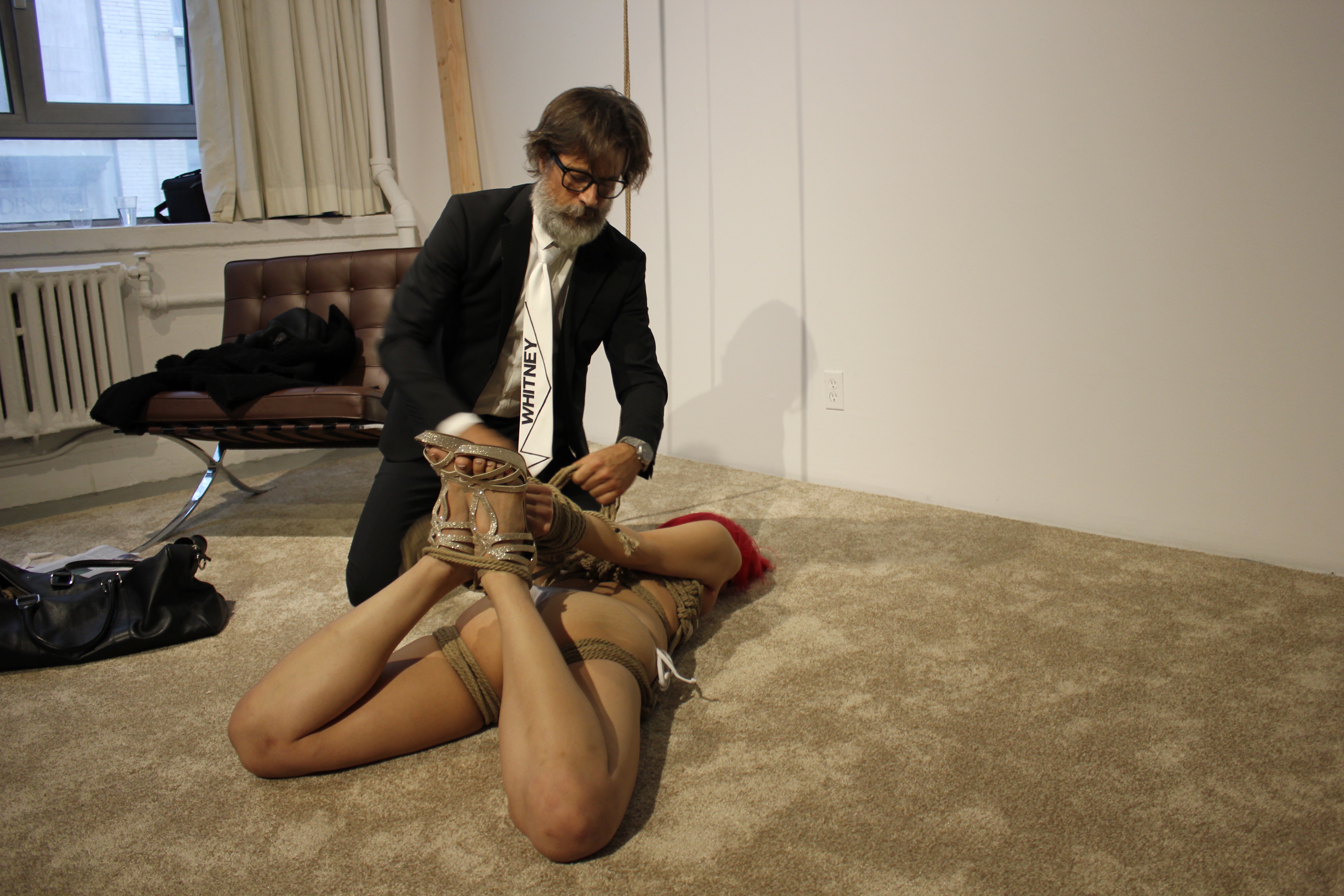 In one of the responses to the Tweet below, someone actually uses the word "Jew."
As I've said before and will say again, mixed race youths are usually angry and alienated. They don't know who they are.
This one unfortunately has her group of admirers willing to indulge her insanity because it spits in the face of the "deplorables," the Trump supporters who voted to "drain the swamp."
Sulkowicz is a vile swamp creature we just can't seem to get rid of. This is the sixth post on her antics I've posted. I hope to do one more.
When she kills herself.