VICTIM GEORGINA CALLANDER WITH ARIANA GRANDE.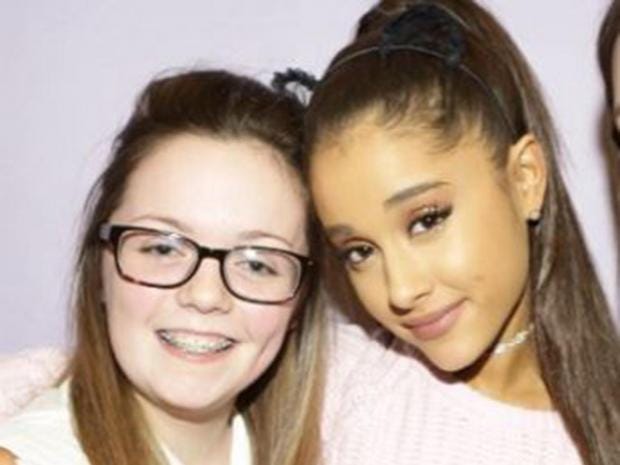 BREAKING: A SECOND VICTIM HAS BEEN IDENTIFIED:
Following the murder of 22 young people in Manchester, England, on Monday night, many in Britain that you and I would call cucks are rallying to the defense of Islam.
Let's look at developments over the last eight hours in a story that is still developing. This is full-blown white genocide.

Greater Manchester Police say they have arrested a 23-year-old man in connection with the apparent suicide bombing at an Ariana Grande concert in the English city.

Police say the man was arrested in south Manchester on Tuesday, a day after the explosion killed 22 people and injured 59, many of them teenagers.

They did not provide details.

On Tuesday morning, the Islamic State said one of its members carried out the bombing.

Prime Minister Theresa May said the investigation was ongoing and the threat level remains at severe.

"We struggle to comprehend the warped and twisted mind that sees a room packed with young children not as a scene to cherish, but as an opportunity for carnage," May said in a statement.

Police also said officials arrested a man at the Arndale shopping center in central Manchester, but that arrest is not believed to be connected to Monday night's attack.
President Trump sends condolences from Israel:
While many in Britain are fearful of being called "racist" if they speak the truth about Muslims:
A "superfan" is now the first identified victim. She seemed like a nice, nerdy girl whose whole life was ahead of her.
The first victim of the suspected suicide attack after the Ariana Grande concert in Manchester that has left at least 22 dead and 59 people injured has been named as 18-year-old Georgina Callander.

Runshaw College, where Callander was a student, released a statement, saying: "It is with enormous sadness that it appears that one of the people who lost their lives in Monday's Manchester attack was one of our students here at Runshaw College […]

"Our deepest sympathies, thoughts and prayers go out to all of Georgina's friends, family, and all of those affected by this loss."

The former Bishop Rawstorne pupil was on the second year of her health and social care course at the college. The college said it was offering counselling with a dedicated student support team to people close to the teenager.

Parents of other missing concertgoers are desperately searching for their missing children.

As it was confirmed that children were among the victims of the Manchester Arena attack on Monday evening, parents continued to visit hospitals and post pictures of their loved ones on social media.

About 21,000 people, many of them children and teenagers, were in the arena when a bomb exploded in the foyer at about 10.30pm.
Britain is having an election next month. ISIS is trying to influence the election:
There are various conspiracy theories out there:
There are too many missing persons Tweets to include:
A rhetorical question with an easy answer. The hatred will end when the last white person is dead.
Not helpful:
Dog lovers, we need to protect our puppers by demanding that the world's governments deport these scum:
https://twitter.com/pippakin/status/866957481813127168
More:
Let me bring this post to a conclusion by reminding everyone that ISIS is the creation of the Israeli Mossad and the American CIA.
So, don't dismiss the idea that Jewish and American operatives are just pulled a successful false flag. There's no evidence for such a theory that I know of, but as events play out, be skeptical and look for contradictions in the official story, which will probably pin the blame on a Muslim.
UPDATE: The Standard reports that the dead bomber was known to police, but they did not consider him a threat. He possibly learned how to make a bomb in Syria or Iraq.
So, Teresa May, why was he allowed back into Britain?
ANOTHER UPDATE:
CBS News reports that the dead bomber's name was Salman Abedi.