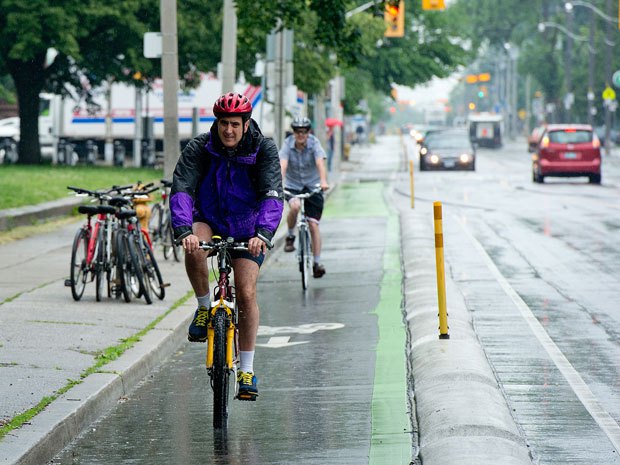 Blacks on bikes? They make easier targets for that KKK-driver whose hobby is mowing them down.
The left is on a roll these days when it comes to labeling everything that is (supposedly) "white" as racist. Just last week here in L.A., a prominent bicycle-rights advocate who was running for city council crashed and burned (metaphorically) when the left declared bike lanes to be racist. And not just bike lanes, but also the enforcement of safe driving laws that protect cyclists. In other words, the two things that bicycle activists hold dearest—bike lanes and safe driving awareness—are now racist. The arguments? Safe driving enforcement will lead to "racial profiling," because apparently nonwhites are such shit drivers that any attempt to keep bikers safe will by necessity lead to drivers of color being locked up (at least that's the reason suggested by L.A.'s favorite Stalinist weekly). And bike lanes? Why are they racist? Simple, stupid. Bike lanes lead to white people entering black communities in a manner in which blacks are forced to see them. No, I'm not kidding. That's the new big thing out here. Blacks don't want to see whites in their neighborhoods, showing off their ofay devil skin and scaring the chillun. No joke. Two months ago, a black entertainment-industry insurer who lives in Leimert Park, a traditionally black L.A. neighborhood, organized a Saturday-morning jogging club made up of his friends and colleagues, most of whom are white. The fact that a bunch of white devils thought they could jog through a black neighborhood set off such a massive firestorm of protest, it became Metro section front-page news in the L.A. Times.
Liberal On the commons did a long feature report on bike lanes as a KKK conspiracy.
Here's an excerpt:
The racial dynamics of bike lanes also flared up in a traditionally African-American neighborhood in Portland that is seeing an influx of younger white people. Long-time residents raised the issue of bike lanes fueling gentrification two years ago at a public meeting about a protected bike lane project for North Williams Street. "The bike community was surprised at the reaction to the project," recalls Michelle DePass, an avid bicyclist and African-American leader, who notes that there was little attention paid to improving traffic safety in the neighborhood when it was predominantly African- American. (Nationally, African-Americans suffer a bike fatality rate 30 percent higher than for whites, according to the federal Centers for Disease Control; for Latinos it is 23 percent higher.)
Heh, heh. Ebil whitey dun beez mowin dem po' colored folks down.
Either that, or the pedal people of color are more careless than whites when riding a bike.