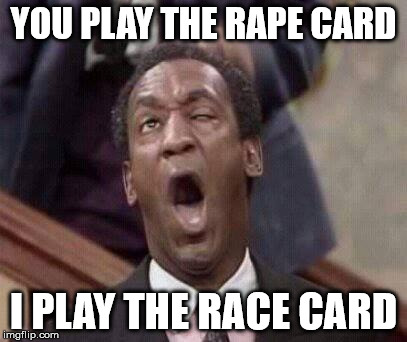 Will the race card work for Bill Cosby the way it worked for O. J. Simpson during his murder trial?
Cosby's lawyers will need to pick a jury as dumb as the Simpson jury.
"If the condom doesn't fit, you must acquit."
Bill Cosby says racism could be to blame for his sexual assault lawsuit during his first interview on the allegations in two years.

Cosby, 79, sat down with Sirius XM host Michael Smerconish, 55, during an interview that will air on Tuesday, and answered 'could be' when the presenter asked about his daughter's claim that 'racism has played a big role in all aspects of this scandal'.

'Could be, could be,' Cosby told Smerconish. 'I can't say anything, but there are certain things that I look at, and I apply to the situation, and there are so many tentacles.

'So many different — nefarious is a great word. And I just truly believe that some of it may very well be that.'

But Smerconish also noted that both Black and White women had accused him.
To which the fallen comedian answered: 'Let me put it to you this way: When you look at the power structure, and when you look at individuals, there are some people who can very well be motivated by whether or not they're going to work.

'Or whether or not they might be able to get back at someone. So if it's in terms of whatever the choice is, I think that you can also examine individuals and situations and they will come out differently.

'So it's not all, not every, but I do think that there's some.'

But Lili Bernand, a Cosby accuser who was born in Cuba but identifies as Black, has reiterated that racial discrimination has 'nothing to do with it'.

'What about us black women whom he sexually violated?' Bernard told NBC in November 2016.

'We're talking about a man who serially raped at least 60 women and that's where the focus must be, race has nothing to do with it.'
Race always matters. But not in the way that Bill Cosby and his legal team will argue. It's not anti-black racial bias that put Bill Cosby in the doghouse with the public and the legal system.
Cosby clearly had/has a taste for white meat. Yes, a few of his alleged victims are nonwhite, but as seen in the lineup above, most of them are white.
It wouldn't be politically correct to call Cosby an anti-white racist. Maybe he hates white women, or maybe he's a white supremacist who views white women as superior to black women.