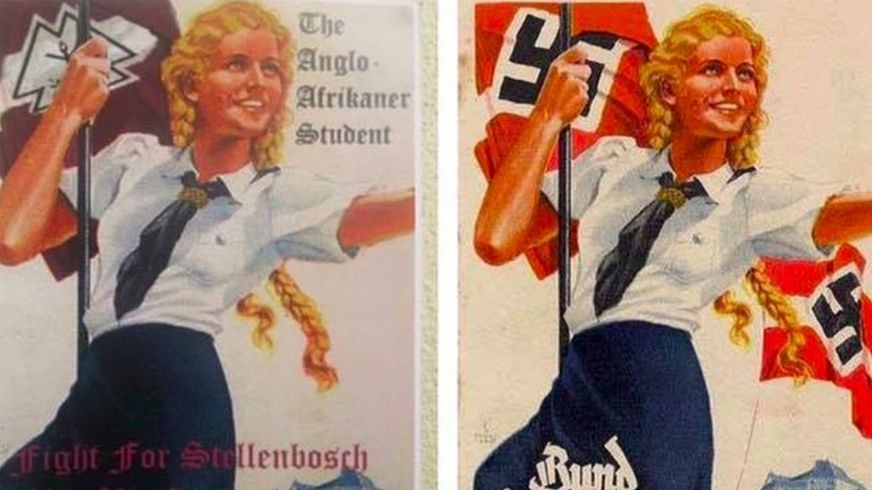 The obvious question for those of us who understand the concept of a false flag is whether sh*t-stirring Jews posted the above images at a South African university.
Three white students have been blamed and have been suspended.
CAPE TOWN (Reuters) – Three South African students were suspended on Thursday on suspicion of putting up Nazi-inspired posters at a university, at a time of growing tension in race relations.

Stellenbosch University said the images, which copied Nazi youth movement posters without their swastika flags, contained "highly offensive references to Nazi propaganda and Neo-Nazism" and were in breach of the university's policies on harassment and discrimination.

The posters for an "Anglo-Afrikaner student" event appeared on Tuesday and were taken down on Wednesday. Under the motto "Fight for Stellenbosch" in English and Afrikaans, one series showed a blond brown-shirted man and another a young woman with long blond braids.

"I have decided to suspend the three students suspected of misconduct while disciplinary proceedings are ongoing," said Wim de Villiers, rector and vice chancellor at the university, who has described the posters as "deliberate mischief-making".

Scores of mainly black students and some academics held a meeting on Thursday to condemn the posters publicly, a member of the apolitical Student Representative Council said.

"Racism is still very much alive, and the posters just showed us once again," said council spokesman Kamva Somdyala.
Two years ago, the same university was rocked by protests by black students against teaching in Afrikaans, a language widely identified with apartheid.

The campus is moving away from its whites-only roots and its racial composition today better reflects the country's mixed demographics. Black, coloured and Asian students make up around a third of the university's population compared to only a few non-whites in 1990. It teaches in English and Afrikaans.
Racial tensions have risen in South Africa in recent months. In April, two white farmers were arrested on suspicion of murdering a black youth in a farming community in the North West province.

In November, two white men were in court to face charges of assault and kidnapping after a video showed them forcing a wailing black man into a coffin in Mpumalanga province. Their trial is set to start in June.
This story is a good example of biased reporting. There's not a word about the ongoing white genocide in South Africa. But two instances of allegations against white people are dredged up. Furthermore, three students worried about the prospects for their race are demonized by the university.
There's also nothing in the story to suggest that white people have a right to their own culture and language. If white people think that blonde is beautiful then who is the Negro to dictate that whites must not be allowed to think that way. If white people want to peacefully assemble and discuss among themselves their concerns, then it is their right to do so under natural law and probably under South African law.