After viewing the video, scroll down the homepage to the post on Taylor Dumpson, a full of shit Negress college student whose life revolves around screaming about how racist white people are.
Yeah, I guess walking your dogs and politely asking that the noise be toned down is racist.
Damn it! The unidentified white woman and her dogs could have been killed.
I picked this version of the video to post because it was published on youtube by a race realist, rather than your typical namby-pamby fool.
From the youtube information box:
Published on May 8, 2017

This is typical nigger behavior. No, niggers are not all doctors, judges, geniuses and heroes like you see on Jew TV. The average American nigger has an 85 IQ and is in the psychopathic spectrum or the ASPD (anti-social personality disorder) spectrum as it's known today.

I grew up around niggers. I went to school with them. My high school was majority black. This is a typical day around niggers.

Notice the Negress inciting the violence. Notice not one person tried to stop him the entire time. Notice they're all shrieking and laughing. They're psychopaths.

You see, the psychopathic mind actually functions differently. Science has confirmed this with brain scans. Whereas the normal white person innately has feelings of empathy and remorse for victims of assault, the psychopath's brain shows areas of the brain light up for pleasure and excitement. Psychopaths enjoy inflicting pain and seeing others suffer.

Even nigger guilt is not genuine. The typical sub-Saharan American would think, "Don't do that because white people will find out about it. It will make us look bad." Not a genuine sense of remorse and concern for the victim, rather a narcissistic defense.

You tell me, would a large group of whites have all acted with indifference or joy like these niggers did here?

Google MAOA-L.
Now for the Daily Mail's reporting on the disgusting incident:
A shocking video shows a man body slamming an elderly woman to the ground before hurling her into a swimming pool.

The unidentified woman, who was walking her two dogs, appeared to be asking a group of pool party-goers to turn down their music.

As she approaches the group of people, who are believed to be in their late teens or early 20s, a woman is heard in the background yelling: 'Throw her in!'

A man then pops up in front of her and picks her up as they both fall to the ground.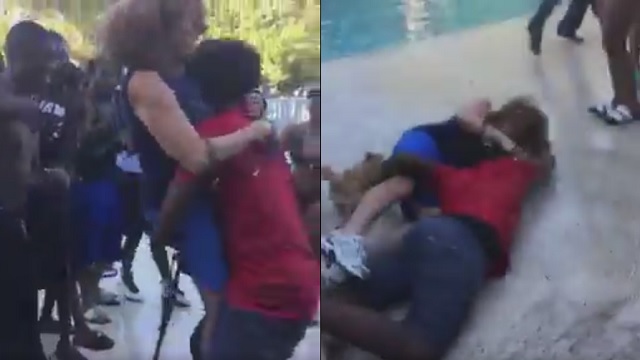 It's unclear if the man accidentally slipped and fell with the woman in his arms or if his intention was to body slam her.

However, he quickly got up and grabbed the woman by her shirt and one of her legs and hurled her into the swimming pool, falling in the pool himself.

Her two dogs were also dragged along on their leashes, but managed to make a run for it before he threw their owner into the pool. The revelers can be heard in the background laughing and yelling in disbelief.

After the man threw the woman in the swimming pool, panicked party-goers are filmed running away from the scene.

It's unclear if the woman was hurt in the incident and it's also unknown when and where the incident took place.
Avoid the groid and call the police!
Moon man's Killing Niggers is … well, you just have to see it.
Another Moonman expression of contempt for ladies and gentlemen of color:
"Black lives matter. They're worth less than fecal matter."
Truth in a nutshell!