Mandatory "diversity training" for everyone. Ain't that a pile of bullsh*t?
A spineless libtard university chancellor has given in to every single demand by a group of black radicals. Tucker's exclusive interview with the porch monkeys is embedded above.
As I interpret this news, blacks want segregation for themselves when they want it. This is called the "safe space" so as to conceal the truth about what is going on.
Meanwhile, if whites were to ask for segregation–a safe space away from black predators–they would be tagged as racist troublemakers and be kicked out of school.
SANTA CRUZ, Calif. —
Students protesting what they believe is a "hostile climate" toward black students at the University of California Santa Cruz were locked inside an administrative building for three days until they scored a sweeping victory Thursday.

Members of the university's African/Black Student Alliance organization took over Kerr Hall Tuesday, locked all of the doors, covered the windows with slogan-filled posters, and vowed to not leave until their demands were met.

"If the university fails us, there will be no business as usual," A/BSA told the university's newspaper.

Chancellor George Blumenthal sat down at a negotiating table with 10 protesters at 4 p.m. Thursday.
Blumenthal? Oh, no. It looks like I have go all antisemitic again. Damn, I get tired of pointing out Jewish mischief.
GEORGE BLUMENTHAL. NEGOTIATING MEANS GETTING SOMETHING IN RETURN, NOT JUST GIVING IN.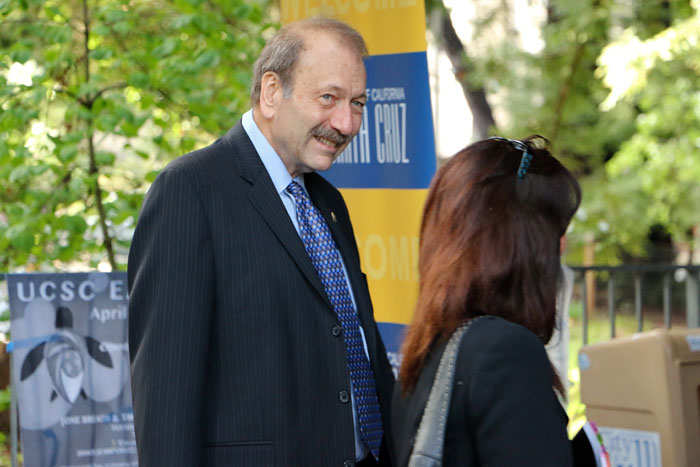 Blumenthal declined to negotiate inside Kerr Hall because he had received threats and feared for his safety, protesters said.

Instead, the meeting was moved to the biology building, and Blumenthal ultimately agreed to meet all four of the group's demands.

The student's primary demand was over the Rosa Parks African-themed house, as well as combating racism at the university.

A/BSA issued the following list of demands:

1) "Similar to EOP students and International students' housing guarantees, we demand that ALL African Black Caribbean identified students have a 4 year housing guarantee to live in the Rosa Parks African American Themed House. Guaranteeing this would provide a viable living option to all (Afrikan/Black/Caribbean) identified students regardless of housing status and college affiliation. We demand a written agreement by the opening of housing applications in April 2017."

2) "We demand the university remove the beds and release the Rosa Parks African Themed House lounge so it can serve its original purpose. We demand the lounge be returned by Fall 2017."

3) "We demand that the university fund the ENTIRE exterior of the Rosa Parks African American Themed House being painted Pan-Afrikan colors (Red, green, and black) by the start of Spring quarter 2017. These Pan Afrikan colors represent Black liberation, and represent our diaspora, and the goals of our people."

4) "We demand that all new incoming students from 2017-2018 school year forward (first years and transfers) go through a mandatory in-person diversity competency training in the event that the online module is not implemented by JUNE 2017. We demand that the training be reviewed and approved by A/BSA board every two years. We demand that every incoming student complete this training by their first day of class."

The Rosa Parks house is currently offered as housing for any student interested in "historical, present-day, and future experiences of predominately Black/African American peoples," UCSC's website states.

University spokesman Scott Hernandez-Jason said housing is a concern for all students.

"We are working to increase the number of beds on campus through a student housing initiative," he told KSBW Wednesday.

The only television news interview that protesters have agreed to so far was with the national Fox News network.

"Having that red, black and green house in the middle of Stevenson College, which is a predominantly white-serving college, is a matter of symbolism and visibility," A/BSAleader Imari Reynolds told Fox News host Tucker Carlson.

The African/Black Student Alliance said its mission as an organization is "the liberation of all black people," and to serve as "a place and space for Afrikan/Black/Caribbean students to learn together, to teach together, to offer support for the various racialized macro-and-microaggressions, and also to challenge each other around some harmful ideologies we may hold toward practicing a fuller love for ALL Black people."

Students asserted that their building takeover should be described as a "reclamation," not "occupation."
Diversity training is not educational, but indoctrination. It should be fought in the courts.
The old Jew chancellor should go.