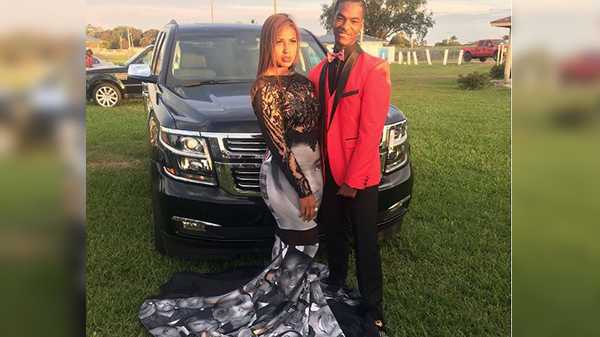 We all know what would happen in Black Run America (BRA) if a white student wore a message to his/her prom that indicated that "White Lives Matter."
That student would be banned from the prom, while being stalked and demonized on social media.
But black privilege led to a different outcome for a Negress in a Black Lives Matter prom dress.
PALM BEACH, Fla. —
It's a prom dress with a message, and it is a message that is going viral on social media.

Milan Bolden-Morris wore a customized dress to her prom honoring the Black Lives Matter movement, featuring black and white images of Trayvon Martin, Sandra Bland, Tamir Rice and others.

Morris shared the photo on her Instagram page with the caption: "Yes I'm black. Yes I'm 17. Yes GOD is using me to convey a message that is bigger than me."
The photo has garnered a lot of attention, both positive and negative, on social media. The Palm Beach senior is also a basketball star, having been recognized by The Palm Beach Post as an "all-area player."

She will continue her basketball career in Massachusetts at Boston College.
I believe it may have been a couple of years ago that I posted a piece on a school in Georgia that has a separate white and black prom. That's the way to do these things. Everyone is happier that way.
This girl should have been banned from wearing the dress, but white administrators wouldn't have the guts and black administrators love the idea I'm sure.
One more thing. I believe the Negroette is a fame whore, looking to be on television. Notice all the celebrities that she contacted in her Instagram post.