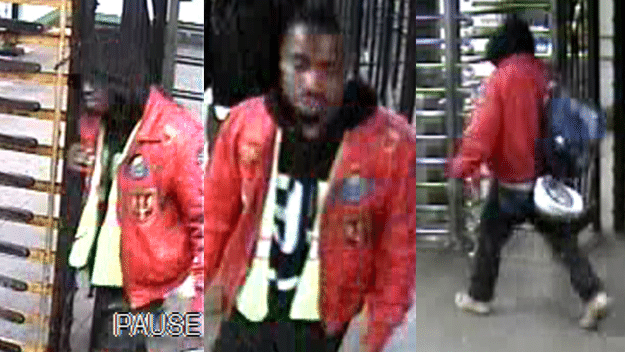 One more reason why judicially administered corporal punishment should be legalized. The boob and vagina grabing Nigga turned really mean when his ape advances were met with resistance.
Police busted a 24-year-old man Sunday they say groped a young actress on a Greenwich Village subway platform and then pushed her onto the tracks.

Cops charged Kimani Stephenson with attempted murder, assault and sex abuse Sunday about 3 a.m., a few hours after nabbing him at his home in the Lillian Wald Houses in the East Village.

Cops were led to his home by a tip after releasing surveillance photos of the suspect hours after the Friday attack on the F train platform at 14th St. followed by video early Saturday.

A woman speaking from behind the door of Stephenson's apartment hours after his arrest told the Daily News she had no comment.

The victim, Bonnie Currie, was transferring to the No. 1 train when she was attacked.

He came up behind me and he grabbed one of my boobs with one hand and he grabbed my vagina," Currie told the Daily News Friday. "I told him to f— off and he pushed me onto the train tracks."

After three shocked fellow straphangers helped her back onto the platform, she was taken to Lenox Hill Hospital, where she underwent wrist surgery. She was also treated for a torn ligament in her left shoulder and a bruised femur.

"It's that nightmare every woman has in New York — and it happened," Currie, 22, said of the attack. "It was terrifying and unreal."

Stephenson said nothing as he was led out of the 28th Precinct stationhouse after being charged Sunday. He was awaiting arraignment in Manhattan Criminal Court Sunday evening.