50,000 OR MORE PROTESTERS OPPOSE MOVES TO REIN IN HUNGARY'S SOROS FOUNDED CENTRAL EUROPEAN UNIVERSITY.

Soros' Central European University has about 1,400 "students." That's 1,400 Fifth Columnists being trained to sabotage nationalism and a Europe for Europeans.
Shut 'er down!
Tens of thousands of Hungarians protested in central Budapest on Sunday against new legislation that could force the Central European University (CEU), a school founded by U.S. financier George Soros, to move out of the country.

A bill passed in Parliament this week by the ruling right-wing Fidesz party of Prime Minister Viktor Orban, a critic of liberal civil organizations funded by Soros, targeted CEU by setting numerous new conditions under which it must operate.

The bill has led to criticism from hundreds of leading academics worldwide as well as from the U.S. government and the European Union.

"The government wants to silence pretty much everyone who doesn't think the same as them, who thinks freely," protest organizer Kornel Klopfstein, a PhD student at the University of Bielefeld in Germany, said. "According to the government one of the centers of these people is at CEU… We should stand up for academic freedom and for CEU."

The Hungarian premier has often vilified Soros, whose ideal of an open society is squarely at odds with Orban's view that European culture is under an existential threat from migration and multiculturalism.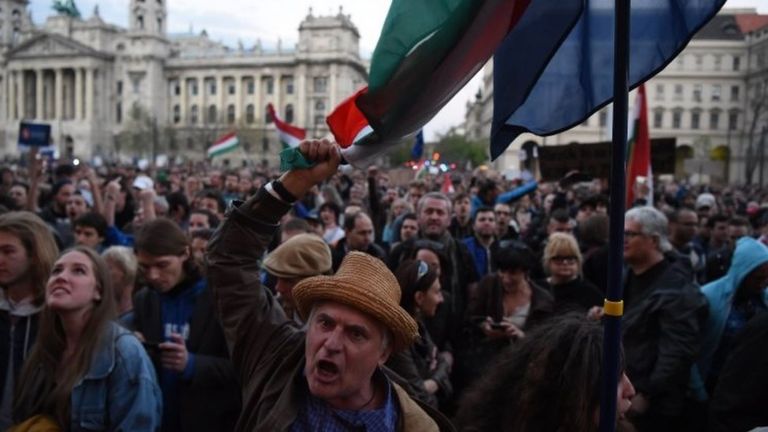 More coverage of this story can be read at the BBC.
The CEU has vowed to fight the legislation. The English-speaking university is ranked among the top 200 universities in the world in eight disciplines.

Mr Soros has a strained relationship with Mr Orban – a keen supporter of US President Donald Trump – who has accused the financier of wanting a role in Hungarian politics and supporting the influx of migrants into Europe.

Mr Orban recently claimed Hungary was "under siege" from asylum seekers.

The prime minister won a scholarship sponsored by Mr Soros to study at Oxford university and the pair were allies in the days immediately following the fall of communism in 1989.