LAVAR BALL'S SON LONZO IS A MULATTO.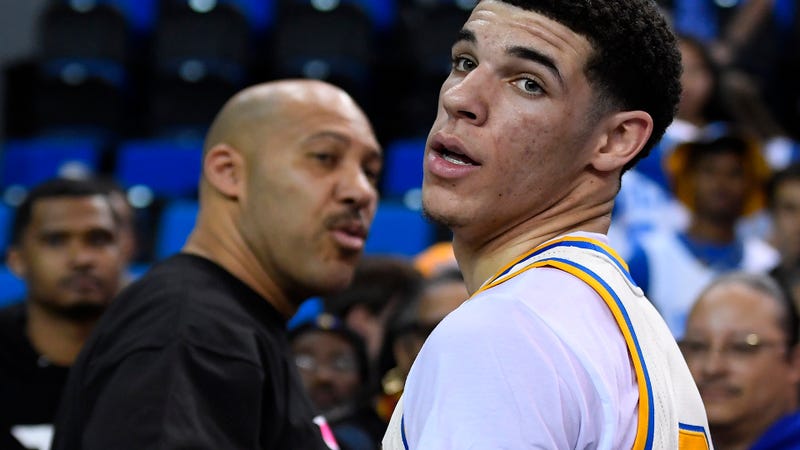 As one wag put it, if whites are so slow how come we were able to catch and enslave the blacks.
The nation's preeminent Sports Dad is at it once again, folks. LaVar Ball's latest comments are on son Lonzo's trip to the Sweet Sixteen with UCLA and why the team couldn't make it further, as reported by the Orange County Register:

"Realistically you can't win no championship with three white guys because the foot speed is too slow. I told Lonzo – 'One of these games you might need to go for 30 or 40 points.' It turned out that was the one game. Then once they get to the Elite 8, they're right there."

Those three white guys would be TJ Leaf, Bryce Alford and Thomas Welsh, and Ball did not come particularly close to "30 or 40 points" in the Bruins' elimination game. He scored 10.
Actually, I have no problems with a black calling whites slow, so long as whites are allowed to call out blacks as mentally slow.
CBS Sports followed up with Ball to seek clarification.
Given the opportunity to clarify his stance, he doubled down on CBS Sports Radio's Tiki and Tierney and explained why he felt that way. He wasn't shy about it, either. I mean, is he ever shy?

"I'm just stating a fact," Ball said. "Here's the thing. People keep thinking that I blame the white guys. No, no. Every time we lose, I only blame one person – and that's my son. That's my son. I don't blame anybody (else). But I said prove me wrong that you can't win nowadays with three white guys on the floor at the same time. I'm not saying I don't like white people and white people can't win or nothing like that. I'm just saying when you have more athleticism (on the floor), it's kind of hard when you don't have the foot speed. That's just a realistic fact."

Ball said his comments weren't "racial" in nature.

"It's not racial," Ball said. "I can't be racial. Some people just take it the wrong way and that's OK – because that's how the media (is). They try to twist it around because it's more interesting when (they) say 'LaVar is racist.' Like I said, I stated my opinion of what I thought. The foot speed is just too slow to catch up with all the athleticism on the court."