HOME INVADER NATHANIAL JOSEPH ROSA WAS A TEACHER'S AIDE AT AN ELEMENTARY SCHOOL.

A 59 year old homeowner has been charged with second degree murder for killing a man he found in the shower of his home. The intruder, Nathaniel Joseph Rosa, who had no criminal record, appeared to be drunk when he was killed.
I've pieced this story together from three sources. Toward the end of the post is a copy and paste of relevant state law.
BELFAIR, Wash. (KOMO) – A homeowner was arrested Saturday morning after he shot and killed an intruder who was taking a shower in his home, Mason County sheriff's deputies said.

Mason County Coroner Wes Stockwell identified the man who was killed as Nathaniel Joseph Rosa, 31, of Bothell.
The homeowner owns two pieces of property that sit next to each other along East Trails Road. One has a house that he lives in. He runs an internet-based business out of a home on the other piece of property, which is where the shooting occurred, deputies said.

The deadly confrontation happened just before 8 a.m. Saturday when the owner arrived to do some work for his business, deputies said. He noticed a window screen out in the yard and someone had forced open the front door.

The man went inside and confronted another man he found in his shower, deputies said. The homeowner left after the two exchanged words.

"He returned home, retrieved a firearm, came back over to the residence and fired multiple rounds into the shower … killing the intruder," said Mason County Sheriff's Lt. Travis Adams.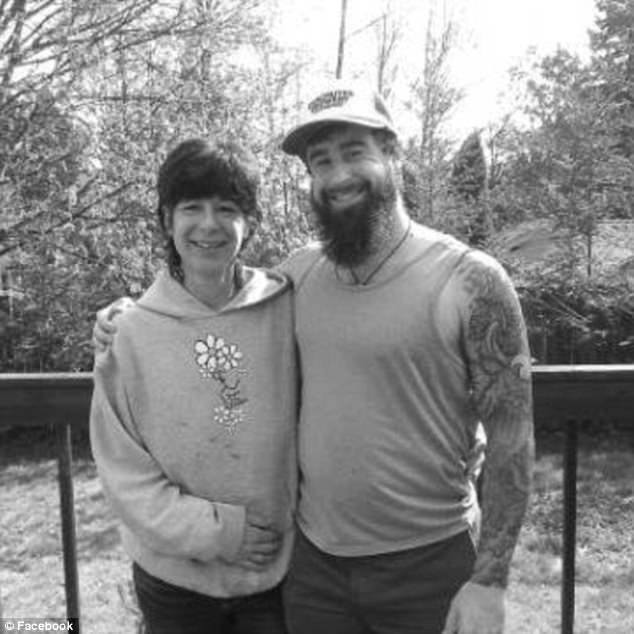 The homeowner called 911 and told dispatchers that he had just shot and killed an intruder, Adams said.

It's not clear how long Rosa had been inside the home, but detectives don't believe the homeowner gave him any warnings before he fired his gun, they said.
Deputies later arrested the homeowner for second-degree murder. They believe he had ample time to call for help when he went back home.

"Certainly he had an opportunity to call law enforcement at that time," Adams said. "And we've contacted our local prosecutor, explained the circumstances to him, and he agrees that second-degree murder was an appropriate charge in this case."

Investigators said the homeowner is cooperating with detectives.

Detectives don't believe Rosa was armed when he was killed, they said.
More:
A judge found probable cause for a first-degree murder charge, but Fanning told police he became afraid after he said the stranger made threats and appeared drunk.

"He was a great uncle, he is a great uncle," said Christa Farster, who said she is Fanning's niece. "I just feel really bad for the whole situation and family and stuff."

The shooting happened near Belfair inside a home Fanning used as an office. Investigators said Fanning called 911 just before 8 a.m. Saturday and told police he shot an intruder.

When police arrived they found Rosa dead in the bathtub.

Fanning allegedly told police he first discovered evidence of a break-in, and then found Rosa in the shower. Fanning said he thought the man was drunk and told investigators he made non-understandable verbal threats towards him.

That's when Fanning told police he left his office, walked to his home next door, got a handgun and returned to shoot Rosa several times.

"It's just crazy," said Fanning's neighbor Stacey Ellingson.

Ellingson said her family heard several shots, adding she felt shocked her neighbor didn't call deputies first.

"It's crazy to me that he didn't call 911 when he left," she said. "I just wouldn't expect that of him, he's such a together guy."

Rosa had worked at Bothell's Woodmor Elementary School since 2015.

The district superintendent, Michelle Reid, told Q13 News, "Nate was a compassionate and dedicated educator who made a difference in the lives of many and will be dearly missed."

Investigators are trying to determine why Rosa was inside Fanning's business.

Fanning's bail was set at $250,000.
Heavy offers the story in its 5 Fast Facts format. This will be of interest to every homeowner:
The shooting was not in self-defense, police said, because Fanning left the house. The sheriff's office said the use of force by Fanning was not lawful.

"There's no duty to retreat, but at this point, the owner did retreat. Then he came back and reintroduced himself to the situation and shot," Chief Deputy Ryan Spurling told the New York Daily News. "Based on what he knew at the time and what he told us, it didn't fit self-defense."

The sheriff's office included the following state law regarding use of force in its press release about the shooting:

WASHINGTON STATE LAW – RCW 9A.16.020 Use of force—When lawful.

The use, attempt, or offer to use force upon or toward the person of another is not unlawful in the following cases:

(1) Whenever necessarily used by a public officer in the performance of a legal duty, or a person assisting the officer and acting under the officer's direction;

(2) Whenever necessarily used by a person arresting one who has committed a felony and delivering him or her to a public officer competent to receive him or her into custody;

(3) Whenever used by a party about to be injured, or by another lawfully aiding him or her, in preventing or attempting to prevent an offense against his or her person, or a malicious trespass, or other malicious interference with real or personal property lawfully in his or her possession, in case the force is not more than is necessary;

(4) Whenever reasonably used by a person to detain someone who enters or remains unlawfully in a building or on real property lawfully in the possession of such person, so long as such detention is reasonable in duration and manner to investigate the reason for the detained person's presence on the premises, and so long as the premises in question did not reasonably appear to be intended to be open to members of the public;

(5) Whenever used by a carrier of passengers or the carrier's authorized agent or servant, or other person assisting them at their request in expelling from a carriage, railway car, vessel, or other vehicle, a passenger who refuses to obey a lawful and reasonable regulation prescribed for the conduct of passengers, if such vehicle has first been stopped and the force used is not more than is necessary to expel the offender with reasonable regard to the offender's personal safety;

(6) Whenever used by any person to prevent a mentally ill, mentally incompetent, or mentally disabled person from committing an act dangerous to any person, or in enforcing necessary restraint for the protection or restoration to health of the person, during such period only as is necessary to obtain legal authority for the restraint or custody of the person.

According to Washington's version of the "Stand Your Ground" law, "no person in the state shall be placed in legal jeopardy of any kind whatsoever for protecting by any reasonable means necessary, himself or herself, his or her family, or his or her real or personal property."