THIS PHOTO ILLUSTRATED A BUZZFEED ARTICLE ON DAVID SEAMAN.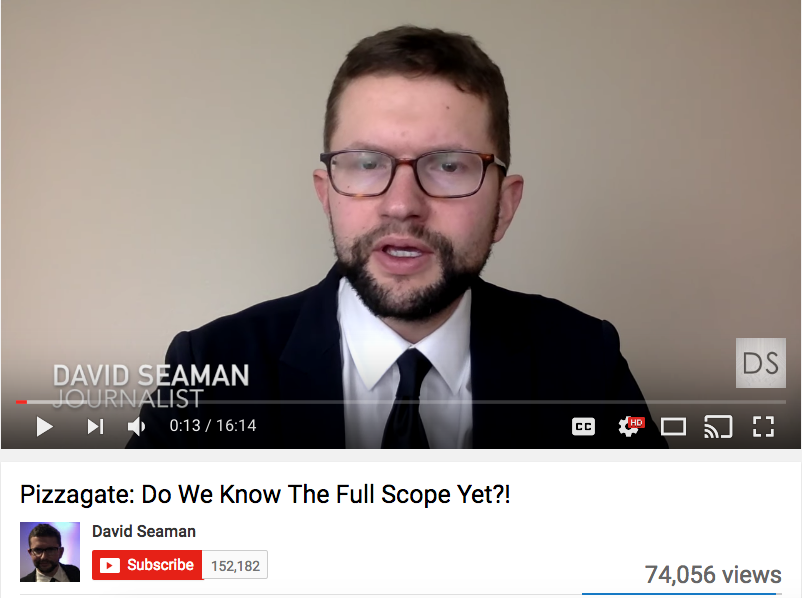 When leading #pizzagate researcher David Seaman took down all his youtube videos and shut down his Twitter account, many of us were mystified.
Buzzfeed, a truly vile leftist site published a hit piece on David on February 25, which apparently upset him enough to disappear himself from the Internet temporarily.
Buzzfeed tries to label people who tell the truth as crazies.
To wit, the conspiracy-news internet's biggest stars, some of whom now enjoy New Yorker profiles and presidential influence, largely live on YouTube — some of them on the site's news channel. Infowars — whose founder and host, Alex Jones, claims Sandy Hook didn't happen, Michelle Obama is a man, and 9/11 was an inside job — broadcasts to 2 million subscribers on YouTube. So does Michael "Gorilla Mindset" Cernovich. So too do a whole genre of lesser-known but still wildly popular YouTubers, people like Seaman and Stefan Molyneux (an Irishman closely associated with the popular "Truth About" format). As do a related breed of prolific political-correctness watchdogs like Paul Joseph Watson and Sargon of Akkad (real name: Carl Benjamin), whose videos focus on the supposed hypocrisies of modern liberal culture and the ways they leave Western democracy open to a hostile Islamic takeover. As do a related group of conspiratorial white-identity vloggers like Red Ice TV, which regularly hosts neo-Nazis in its videos.
The Buzzfeed piece goes on to plant the idea in the public mind that all content that the left doesn't like (Holocaust truth, for example) should be removed by youtube. In other words, it's time to clean up the Internet and make it politically correct.
I guess Buzzfeed thinks that the idea of a Satanic cult of (((powerful people))), exposed by Seaman and thousands of others, is a good place to start.
Interestingly, a lady I know who is a Trump supporter and a believer in conspiracies becomes enraged with me when I bring up Pizzagate. She angrily denounces it as fake news.
Anyway, here's David Seaman's response to the smear job on "conspiracy theorists," himself in particular.
Note From David

FEBRUARY 27, 2017
I got the word I would be attacked a lot this week. "Character assassination."

Let them do it. Let them say whatever they want. I helped get the word out in time, and that changes history. Fake News corporate media, owned by the people who lost the election, does not represent truth or knowledge or wisdom.

I just don't want to see it. I'm somewhere safe and will return to my usual media schedule next week sometime. It is tedious to reply to their made-up theories about me. They use the same playbook all the time- it's called Saul Alinsky's "Rules for Radicals."

I don't recommend you read it. It will lower your energy level; it's a book about manipulating people and breaking people, rather than healing through love and insight. But, of course, many in the political class are still operating out of that old paradigm where they need to break and harm us, bend us to their will. I opt out of that paradigm, as should each of you.

Anyone with half a mind knows I did not go through what I went through over the last 4 months to promote an out of print Internet marketing textbook I wrote 9 years ago. Anyone with a half a heart knows I did not become one of the first US journalists to call out the ring's child trafficking in order to make money from a gold company's affiliate program. And anyone who is a friend knows I do not like George Soros. I've read his books, he has a legendary financial mind (or did until recently), and he has used his wealth and power to make our world less safe, less beautiful, and more fear-based.

That's not acceptable. Ironically, some of the groups calling me a Soros shill are likely financed by him. Why do that? Well, it's in Rules for Radicals- these are not nice people.

As for my YouTube, the videos have been deleted for legal reasons. I will be able to discuss this more next week, when I return to my regular public schedule.

God bless you all and thank you for being people of great integrity, people who aren't swayed by the flicker of dishonest people on TV and dishonest bloggers at Buzzfeed and elsewhere.

A new world is ahead. Not a new world order, as they intended. A free world.
As was posted on Saboteur365 on February 26 in the comments section, there are doubts about his sincerity that some of us hold.
Feel free to disagree with me, but I believe he's sincere in wanting to see the Deep State dismantled, with the #pizzagate players disgraced and imprisoned. He may have faults, like we all do, but his heart is in the right place.
Am I wrong?