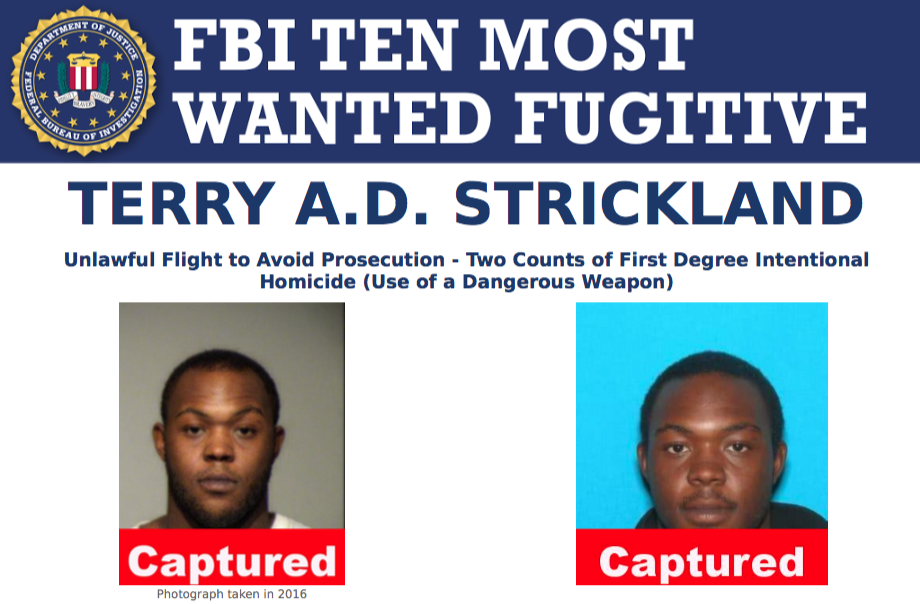 The tipster who informed the FBI that Strickland was living in El Paso, Texas deserves a commendation for alertness and good citizenship. Actually, according to Wikipedia, the FBI offers a $100,000 reward for its most wanted fugitives, who tend to be more nonwhite than the general population.
The coward who killed two of his fellow blacks in cold blood deserves the same mercy he showed his victims.
A man on the FBI's 10 most-wanted list for allegedly killing two men in Milwaukee was arrested Sunday in Texas after spending nearly six months on the lam, authorities said.

Terry A.D. Strickland, 24, was arrested in El Paso and booked into jail. He had been charged in Milwaukee on two counts of first-degree intentional homicide and with unlawful flight to avoid prosecution.

Strickland was among a group of man arguing in front of a Milwaukee home July 17, authorities said. Witnesses saw him go inside the house, emerge with a gun and fire into the small crowd. Authorities said Strickland shot and killed Maurice Brown Jr., 38, who was on the ground, then turned to Michael Allen Reed, 39, and shot him in the head.

"It was vicious," Milwaukee Police Chief Edward Flynn said when Strickland was added to the FBI's most-wanted list last month. "It was unnecessary. Neither individual posed the slightest threat to Mr. Strickland, but they paid with their lives for occupying the same space."

Brown's wife told Fox 6 Now she had been praying for an arrest and justice for her new husband. They had been married only a few months before Brown's killing.

Authorities have said Strickland fled from the shooting in a black SUV, abandoning his 18-month-old daughter inside the house, the Milwaukee Journal Sentinel reported.

The FBI said agents were led to Strickland after receiving a tip that he may be temporarily living in El Paso. The FBI in El Paso and the El Paso Police Department arrested Strickland early Sunday morning during a traffic stop. He was taken into custody without incident.