DISCREDITED AND DEMOTED NBC NEWSMAN BRIAN WILLIAMS.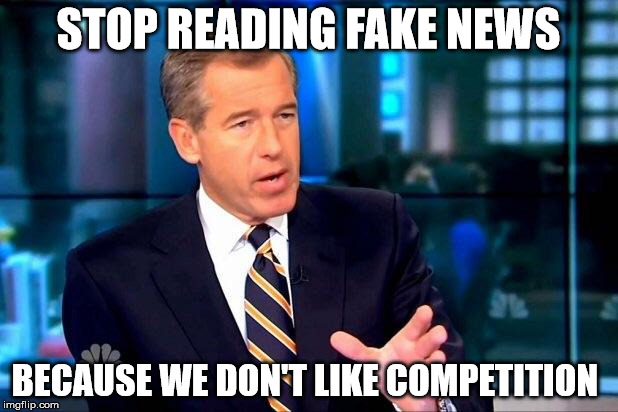 The (((globalists))) want you to only read their propaganda, pushed out by the likes of CNN, MSNBC, NBC, ABC, and CBS. So, they've hatched a plan to call truth, or anything that offers a different perspective, fake news. Now, comes the part where fake news is banned from popular news feeds.
Facebook is going to start fact-checking, labeling, and burying fake news and hoaxes in its News Feed, the company said Thursday.

The decision comes after Facebook received heated criticism for its role in spreading a deluge of political misinformation during the US presidential election, like one story that falsely said the Pope had endorsed Donald Trump.

To combat fake news, Facebook has teamed up with a shortlist of media organizations, including Snopes and ABC News, that are part of an international fact-checking network led by Poynter, a nonprofit school for journalism in St. Petersburg, Florida.

Starting as a test with a small percentage of its users in the US, Facebook will make it easier to report news stories that are fake or misleading. Once third-party fact-checkers have confirmed that the story is fake, it will be labeled as such and demoted in the News Feed.
Conservatives were quick to react to the news, as documented in a second story at Business Insider.
"Fact-checkers all seem to be from the left," Evan Siegfried, a Republican strategist, wrote on Twitter. "Not good for conservatives."

Other conservatives quickly agreed, hammering Facebook for the move.

"This is a disaster for news coverage," wrote Ben Shapiro, a prominent conservative and editor-in-chief of The Daily Wire. "It's an attempt to restore gatekeepers who have a bias as the ultimate arbiters of truth."

RBPundit, an influential anonymous conservative blogger, published a series of tweets expressing strong concern.

"It's going to be leftists reporting stories they don't like and leftists 'fact-checking' these stories," RBPundit wrote. "It's a fraud."
There used to be a popular social media website called Myspace, which is pretty much dead. Fakebook needs to die as well. Leave it to the cat ladies and feminist morons with blue hair.