STEVEN MNUCHIN AND EX-WIFE HEATHER CROSBY.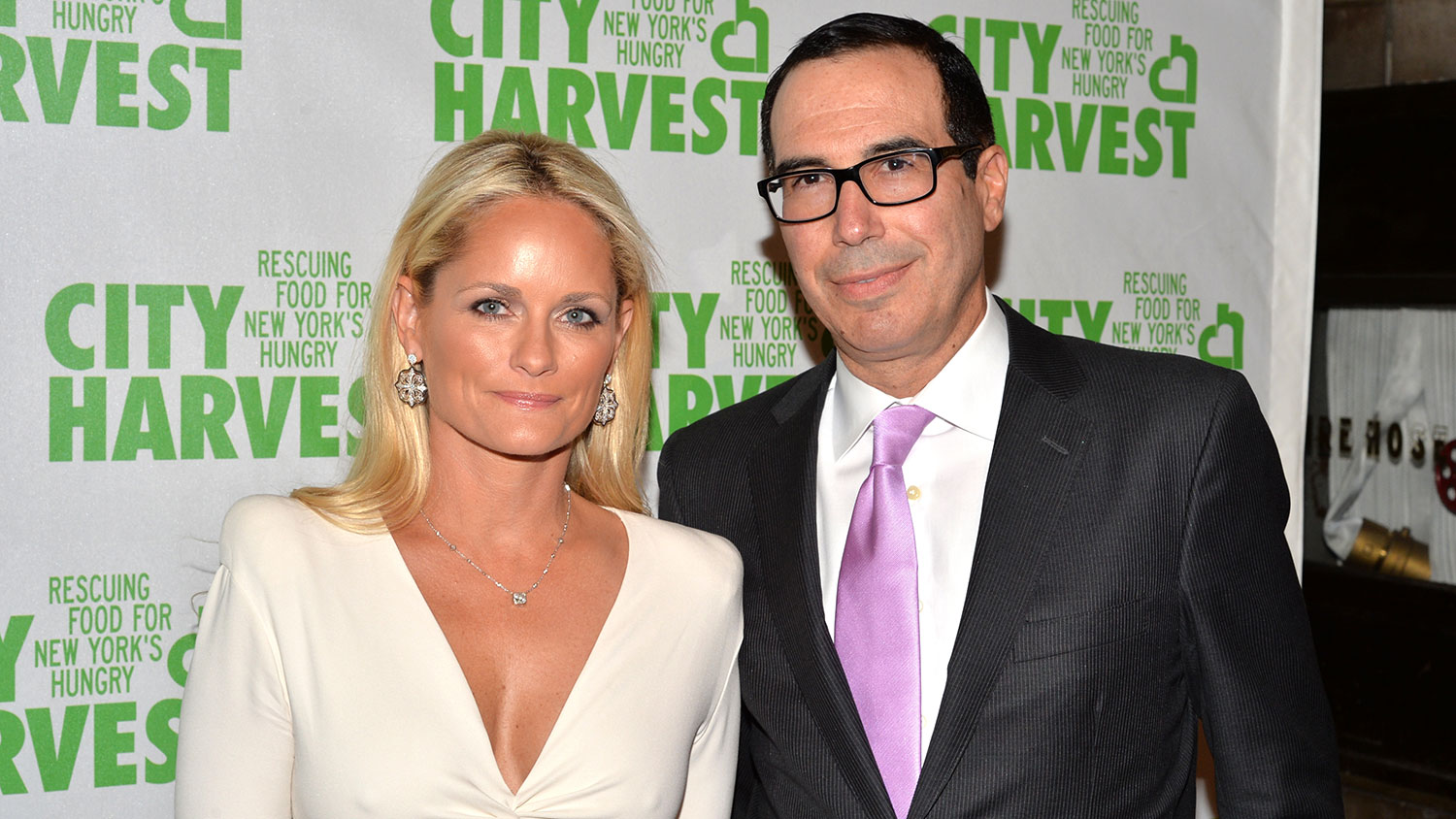 President-Elect Donald J. Trump has picked his money man–a New York Jew with ties to Goldman Sachs, Hollywood, and George Soros.
The comments at Zerohedge can be summarized in one word: BETRAYAL.
Trying to be optimistic, time will tell who's Jewing who. Mnuchin knows his way around the swamp. But will he help Trump drain it?
While it has yet to be officially confirmed by the Trump transition team, moments ago the NYT reported that – in what had previously been leaked on several occasions on various other outlets most notably the WSJ – former Goldman banker and Soros employee, Steven Mnuchin "a financier with deep roots on Wall Street and in Hollywood but no government experience" is expected to be named Donald J. Trump's Treasury secretary as soon as Wednesday.

The WSJ has confirmed as much, reporting that "President-elect Donald Trump will name longtime banker and former Goldman Sachs executive Steven Mnuchin as Treasury secretary, turning to a campaign loyalist and fundraiser for the incoming administration's top economic cabinet post, a transition official said Tuesday."

From the NYT:

Mnuchin, 53, was the national finance chairman for Mr. Trump's campaign. He began his career at Goldman Sachs, where he became a partner, before creating his own hedge fund, moving to the West Coast and entering the first rank of movie financiers by bankrolling hits like the "X-Men" franchise and "Avatar."

As Treasury secretary, Mr. Mnuchin would play an important role in shaping the administration's economic policies, including a package of promised tax cuts, increased spending on infrastructure and changes in the terms of foreign trade. He could also help lead any effort to roll back President Obama's nuclear deal with Iran and opening to Cuba by reimposing sanctions on Tehran and Havana.

As the NYT adds, his selection fits uneasily with much of Mr. Trump's campaign rhetoric attacking the financial industry. Mr. Trump, in a campaign ad intended as a closing argument, portrayed the chief executive of Goldman Sachs as the personification of a global elite that the ad said had "robbed our working class." But, the NYT notes, Mnuchin has said that he agrees with Mr. Trump's priorities, and he was an early supporter of a candidate who clearly prizes loyalty.

When Mr. Trump won New York's Republican presidential primary in April, Mr. Mnuchin attended the victory party. The next day, he accepted Mr. Trump's invitation to become the campaign's national finance director. A number of Mr. Mnuchin's friends made comments to various publications expressing shock at the decision. Mr. Mnuchin was unfazed. "Nobody's going to be, like, 'Well, why did he do this?' if I end up in the administration," he told Bloomberg Businessweek in August.

As the WSJ adds, "Mr. Mnuchin's Wall Street pedigree presents a contrast with the populist themes Mr. Trump struck in his campaign, railing against big banks and vowing to close tax loopholes that benefit hedge funds. Mr. Trump also repeatedly attacked his rivals in the primary and general elections for their Wall Street ties, especially those connected to Goldman Sachs."

If confirmed by the Senate as Treasury secretary, Mr. Mnuchin will join a list of prominent bankers who made similar moves from Wall Street to Washington, including two of his former bosses at Goldman, Henry Paulson and Robert Rubin, who were both top Goldman executives before running Treasury.
The article goes on to provide more details about Mnuchin's background. The Los Angeles Times also offers more details, focusing on deals he's made that sound typically Jewish.
Mnuchin, a divorced father of three children, owns a $26.5 million mansion in Bel Air and previously lived at New York's 740 Park Avenue, a tony cooperative apartment building, according to public records and news reports. In 2011, the lawn of his 22,000-square-foot L.A. residence was the site of demonstrations by dozens of "Make Banks Pay" activists, including a foreclosed homeowner whose loan was serviced by OneWest, which had drawn scrutiny for its eviction tactics.
Heavy describes him as a Soros, Clinton democrat.
In addition to his extensive ties to Wall Street, Mnuchin is also connected to Hollywood.

Mnuchin has been an executive producer on several films since 2014, including "American Sniper," "The Lego Movie," "Mad Max:Fury Road," "Black Mass," "The Intern" and "Entourage," according to his IMDB.com page.
MNUCHIN WITH FIANCE, SCOTTISH ACTRESS LOUISE LINTON.

As reported by Wikipedia, Mnunchin's lady has been involved in a controversy over race. Apparently, her truthfulness about black Africans in a book she wrote offended the politically correct leftards. So, it's interesting that Mnunchin may end up with a race realist, alt-right sort of woman as his wife. Trump will love it: Grab that *****.