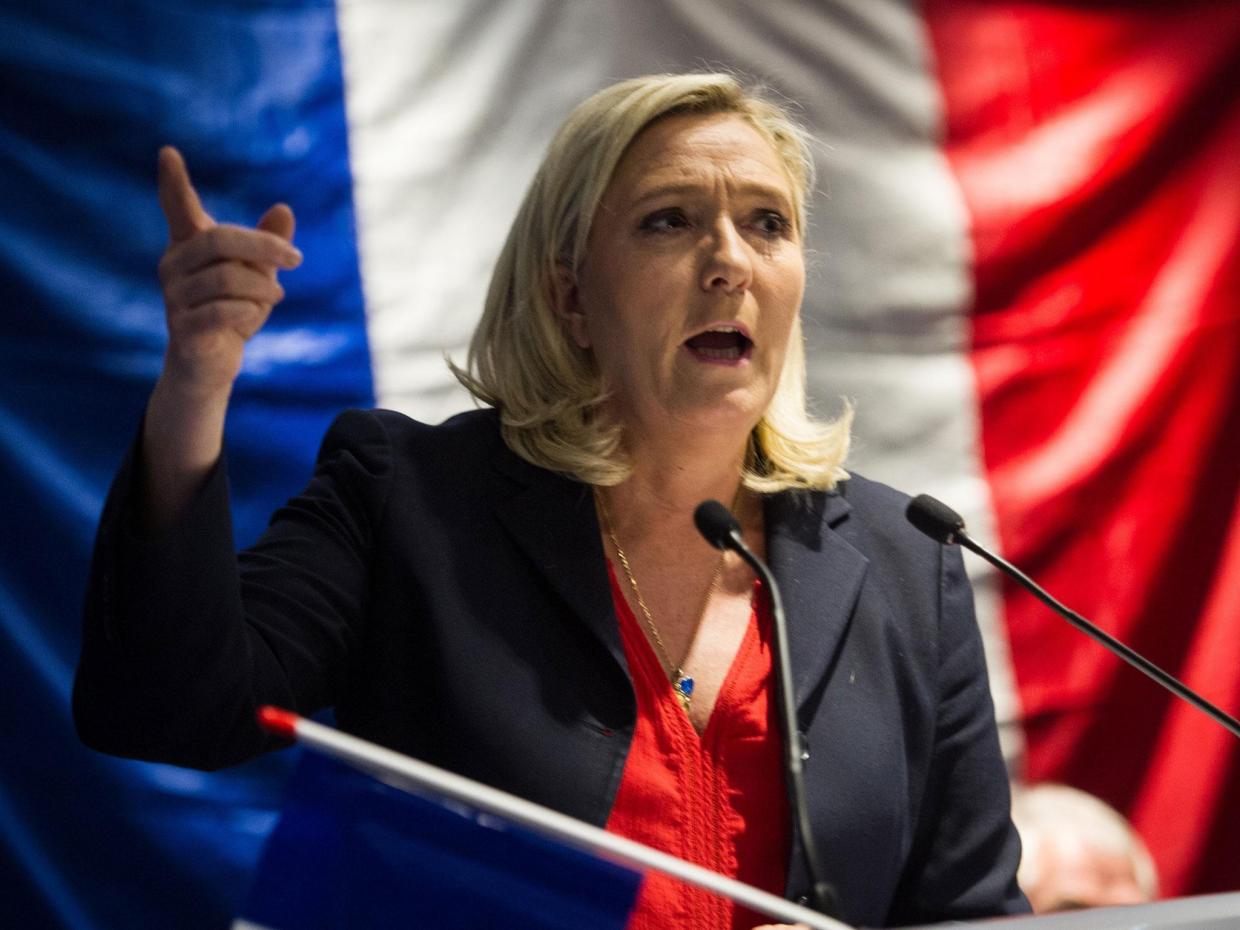 Front National leader Marine Le Pen has taken a sizeable lead over Nicolas Sarkozy in a new French presidential election poll.

The far-right leader had 29 per cent of the vote when pitted against Les Républicains' former president, who was eight points behind, and held a 15-point lead over the Parti de Gauche's Jean-Luc Mélenchon in the poll released by Ipsos.

It was one of five scenarios for the first round of France's 2017 presidential elections on 23 April, although one that did not include Les Républicains' Alain Juppé – who remains strong favourite to succeed Francois Hollande as leader.
While Mr Juppé holds leads of between 4 and 7 per cent in three other scenarios including him, the results are likely to add to growing fears that the rise of global populism could see Ms Le Pen secure a surprise victory in the wake of the UK's Brexit vote and Donald Trump's US election win.

Under the French election system, barring the unlikely possibility one candidate gains an overall majority in the first round vote, the two candidates with the most votes will contest a second and decisive round on 7 May.

Second round opinion polls have consistenly given Mr Juppé a significant lead over Ms Le Pen.
The Guardian reports that Sarkozy has bowed out of the race after his defeat by Le Pen:
Nicolas Sarkozy, one of the most divisive figures in French politics, calmly took to the podium to accept defeat, vowing to spend less time on the "passions of public life" after France humiliatingly rejected his attempt to run again as the right's candidate for next year's presidential election.
His thwarted bid to reconquer the French presidency and avenge his 2012 defeat by the Socialist François Hollande had been driven by a lifelong addiction to elections and a conviction that he could read the public mood. He once said of politics that "you have to withdraw the needle slowly" but he never managed to kick the habit. Now, aged 62 and after 40 years in politics, he might have to finally bow out.

During the right's primary race, Sarkozy ran a ferociously hard-line campaign on French national identity, stealing the mantle of the far-right and targeting Muslims and minorities with proposals such as banning the hijab from universities and burkinis from the nation's beaches.

His divisive and extreme approach will leave its mark on the rest of the presidential campaign in the run-up next May's vote.

Sarkozy had already veered to the far-right during his failed re-election bid in 2012, convinced he lost that election because he didn't go quite far-right enough.

This time, he went all out – saying that France's identity and unity was threatened, targeting Islam and immigrants, promising to limit the French nationality rights of children born of foreign parents, saying that the only true ancestors of France were the Gauls, insisting that children who don't eat pork should lose their special school dinner options and instead eat chips. Despite having supported Hillary Clinton in the US election, Sarkozy quickly turned his attentions to a victorious Donald Trump, attempting to style himself as a similar anti-elite figure and promising to rail against the politically correct.
Sitting on the other side of the Atlantic, we alt-right Americans only wish the best for France. The best would involve preserving the French ethnicity and culture. That would require stopping all Muslim immigration and encouraging all foreigners to leave the country.
In all honesty, I'm not sure France can be saved.